Creating the Silicon Valley of Arctic Europe, Interview with Chana Svensson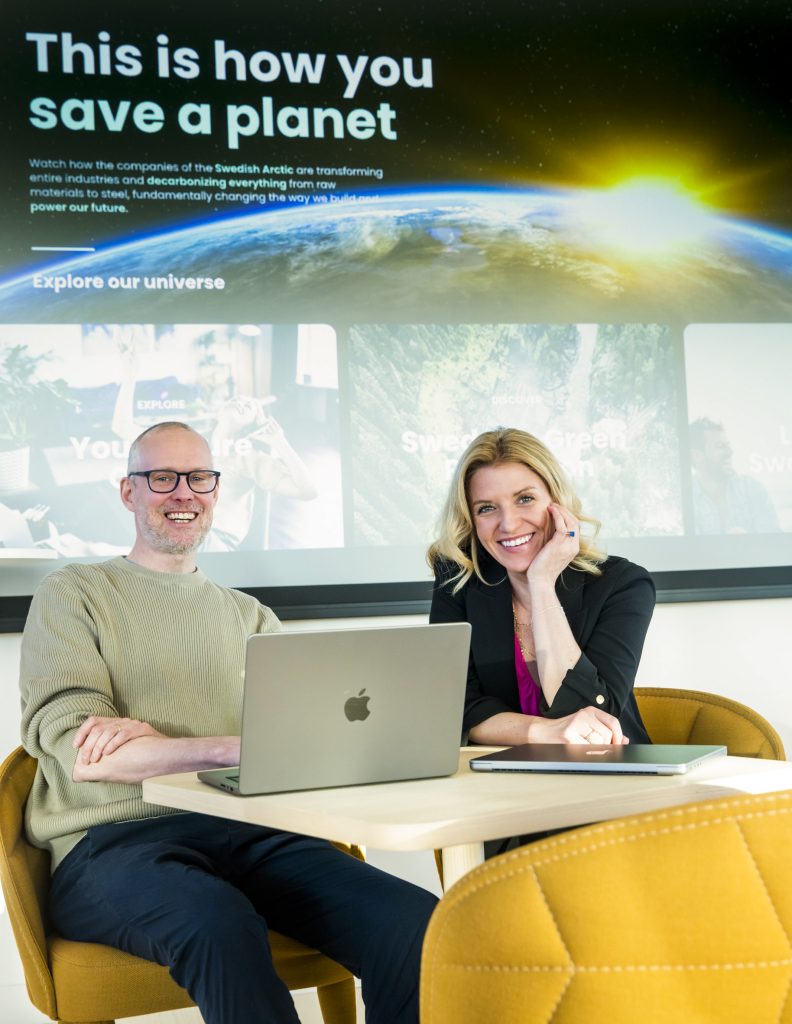 Markus Gustafsson Founder & Chana Svensson, CEO & Co-Founder of MindDig
CREATING THE SILICON VALLEY OF ARCTIC EUROPE
Interview with Chana Svensson, CEO & Co-Founder MindDig
"Employers should talk not just about the career opportunities they offer, but the lifestyle the region provides, including paid parental leave, universal healthcare, universal childcare, clean air and water, seasonal outdoor activities, walkable and safe cities, and some of the most beautiful nature on the planet".
As Norrbotten gears up to attract global talents, we sat down with Chana Svensson, CEO and co-founder of the talent attraction and retention platform, MindDig, to talk about the trends in global talent attraction, how companies in Norrbotten can attract global talents and what makes people want to move to Northern Sweden and Norrbotten.
Chana sees Norrbotten at the intersection of major global talent attraction trends. First, there is a global talent shortage, especially in the green tech sector. Second, the next generation of talent are both purpose and lifestyle driven, meaning they want a sound work-life balance as well as the ability to contribute to improving society. If you combine these two factors in a Norrbotten context, with an expanding green tech sector and the growth of the renewable energy sector, Norrbotten is poised to attract next generation global talents.
– Norrbotten is at the intersection of several global macro trends and we need to be bold & not "lagom" – about what this region and its employers offer. Employers should not just about talk the career opportunities they offer, but the lifestyle the region provides, including paid parental leave, universal healthcare, universal childcare, clean air and water, seasonal outdoor activities, walkable and safe cities, and some of the most beautiful nature on planet. People are more than just their job, which means we must showcase the high-impact career opportunities of the region, alongside the lifestyle offered in the different cities.
For a lot of people living in Norrbotten it is easy to take for granted some of the things that make our region stand out as a place to live and work. Chana moved to Sweden from the US, where she was an entrepreneur working with innovative companies and startups, and she worried that she would not have the same level of career excitement and impact after moving to Sweden. As someone who is not a native Swede and works with global talent attraction, what is the value proposition for people moving to Northern Sweden?
– For me, I didn't want to trade an interesting career for a better life, and I actually didn't have to. Now I get to work with extraordinary companies and people, while gaining back hours of commuting to spend more time doing what I love outside of work. I walk or bike to work and my son attends daycare for a fraction of the cost compared to the United States. I love working but I also love skiing, hiking and ice bathing. It really is an incredible lifestyle if you take full advantage of what our region has to offer.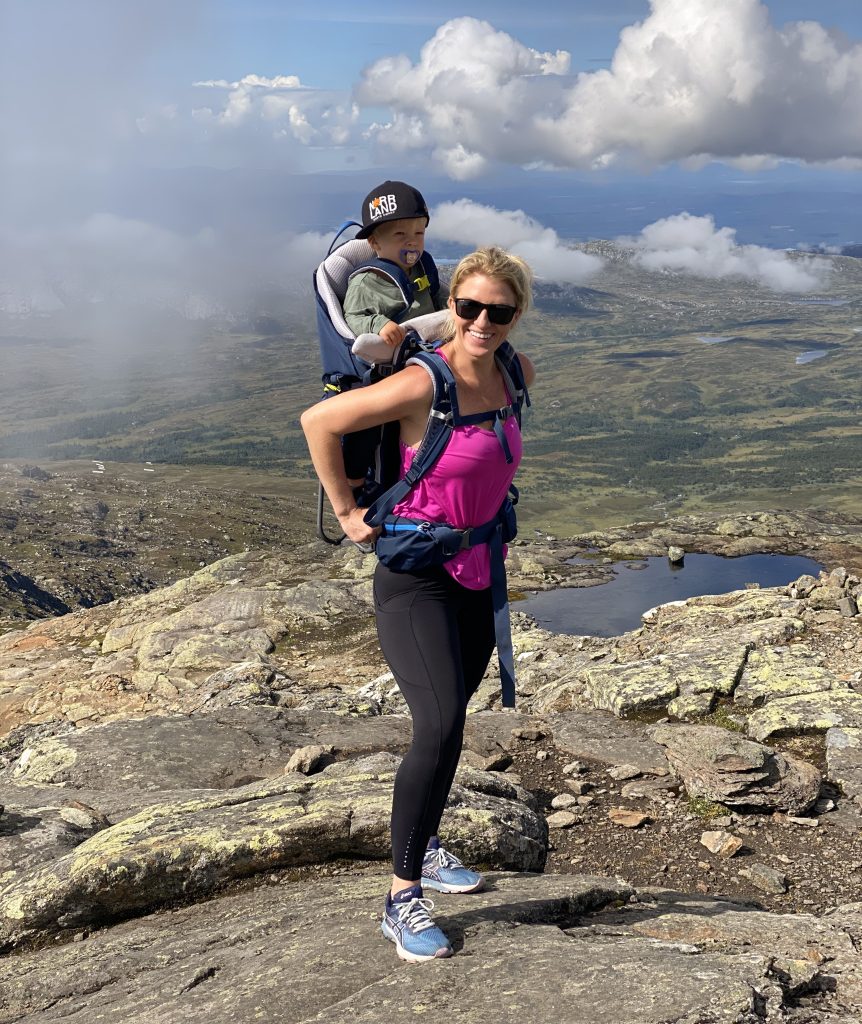 The population in Norrbotten and Västerbotten needs to increase with 100.000 people. From your perspective what are some of the challenges?
– Some of the biggest challenges deal with how to we finance the housing, schools, and infrastructure, prior to the budgets of the cities growing. We need a new risk allocation model, where pension funds, sovereign wealth funds, or other large external sources of capital invest in the growth of this region now – prior to the realization of the full expansion. We simply cannot attract the talent we need if we do not have the housing, schools, and cultural offerings needed to retain them.
– Another challenge stems from the need to internationalize our cities and places of work. We need to get better at working in both Swedish and English at our largest employers and our smallest companies. This means that we need language classes in every city, and we need a resource bank (including language classes, visa services, and cultural training) for our small and mid-sized companies. They cannot be expected to make this transition to a more international workforce on their own – but together, as a coalition of companies and cities, we can achieve this objective.
What are some of the possibilities?
– The possibilities are endless – I envision a truly international region in the next decade, that is exporting green technologies to the rest of the world. This region will be known not just for its exports, but also for its incredible cultural offerings, restaurants, and outdoor adventures. The more people we attract from all over the world, the more interesting this region and everyday life will become.
A lot of companies need to work strategically with attracting global talents, if you could offer some advice for companies, what would it be?
Don't be afraid to hire non-Swedish speaking employees. People that are moving to this region are highly motivated to make this their new home and if Swedish is a necessary requirement of working at a particular company, let them take language classes and learn on the job, rather than wait until they are fluent.
Do not cannibalize from other companies and organizations in the region, particularly public sector employers. This will lead to a destruction of essential services, and unsustainable wage increases.
Ensure that retention is built into attraction and start working on your talent retention plan the minute you begin recruiting. It is essential that we keep the talent we attract.
If we look at it from the other perspective, what would your advice be to people interested in moving to Northern Sweden?
Be forward when making new friends and connections. Swedes are some of the kindest people, but they are also shy and tend not to invite new people to events or over for dinner. If you want to make friends with Swedes, be the one to initiate the conversation.
Think about the lifestyle that is offered and not just the career opportunities and try to imagine what that new type of life would be on a day-to-day basis.
Plan a trip and visit! It is impossible to know if you want to live here if you don't experience it in person. It is truly kinetic what is happening; words and pictures can only do so much!
About MindDig
MindDig is a SaaS-company, offering a uniquely collaborative talent attraction, recruitment, and retention platform for private and public employers within the green industrial revolution, and a career and soft-landing portal for global talent searching for their dream job. MindDig is revolutionizing the way companies and cities recruit talent, by enabling collaborative recruiting and retention to happen seamlessly and at scale. The digital platform is currently utilized by Northvolt, H2 Green Steel, Skanska, LKAB, NCC, SSAB, Boliden, LTU, Region Norrbotten, Trafikverket, Luleå, Boden, Skellefteå, Umeå and numerous other game-changing companies and cities in northern Sweden.
About Chana
Chana Svensson is a lawyer and entrepreneur from the U.S., who co-founded MindDig with Markus Gustafsson, a Luleå native, investor, and entrepreneur. Prior to moving to Sweden and starting MindDig, Chana co-founded Soilcea, an agriculture technology startup in the U.S., focused on developing transformative agriculture products utilizing cutting-edge genetic manipulation techniques, including CRISPR. Before starting Soilcea, Chana practiced antitrust law in Washington, D.C.