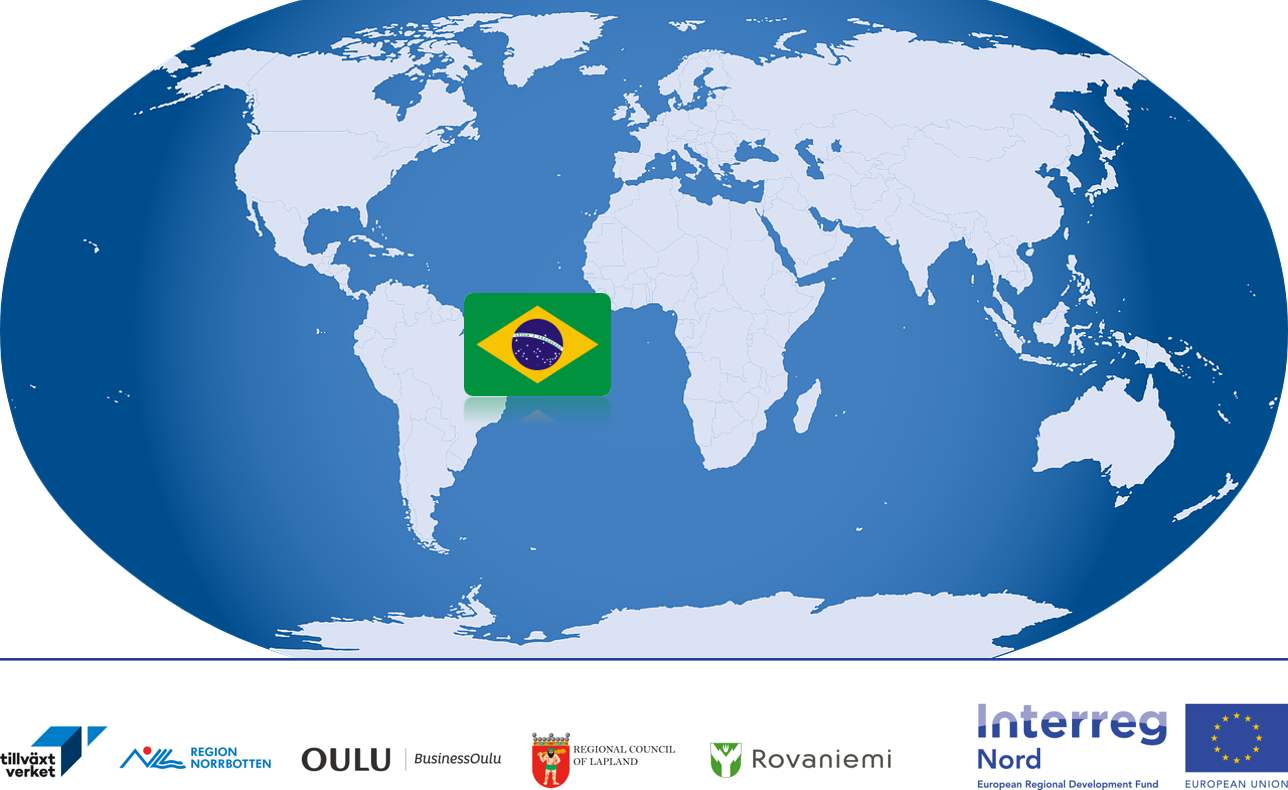 World Business webinar: Doing business in Brazil
World Business Webinar is the free virtual seminar to introduce insights by specified market experts organized by Export Cooperation Sweden Finland project members, aiming at sharing business situation and timely information on a specific country with Finnish and Swedish companies to help market entry and give some tips for company's internationalization.
In this third webinar we look into Brazil as a market.
Our contact in Rio de Janeiro, Johan Stern at Kazamax, will introduce us to the market and give some of his experiences as a Scandinavian living in Brazil during the last 16 years.
Brazil today, foresight for tomorrow
As an entrepreneur from Scandinavia, how to prepare?
Some insights in the Brazilian business culture.
How to enter when borders are closed, by a new company, a reseller or a partner? What kind of options are available?
Do we find national differences?
This webinar will be held in english
Date: October 21st
Time: 13:00 -14:00 CET (Swedish time) 14:00 EEST (Finnish time).
Place: MS teams
Registration: Click here
This event is free to participate, but pre-registration is required.
The MS teams link will be sent to registered participants later.
Welcome
Export Cooperation Sweden Finland
---

This webinar is an acitivity within the Export Cooperation Sweden-Finland project.
Export Cooperation Sweden Finland is a Cross-border organizational cooperation, that helps companies in northern Finland and Sweden to find new and profitable business opportunities, export activities and to enter a global market. The aim is to increase cross-border cooperation and awareness among supporting organizations of exporting and we believe that with a transnational cooperation we can help companies to access more extensive and accessible services than just at local level. The companies we want to involve will be companies that mainly are into an eco-system of innovation or academy.
Norrbotten Chamber of Commerce is the Swedish project leader in this cross-border collaboration project, with BusinessOulo as the head project leader.
Funders on the Swedish side include Interreg Nord, Tillväxtverket and Region Norrbotten.
---
Medverkande organisationer i Export Cooperation Sweden Finland

Datum:
21 oktober
Tid:
13:00 - 14:00
Plats:
Digitalt via MS Teams
anmäl dig nedan
för länk till webinar
Anmäl dig här!