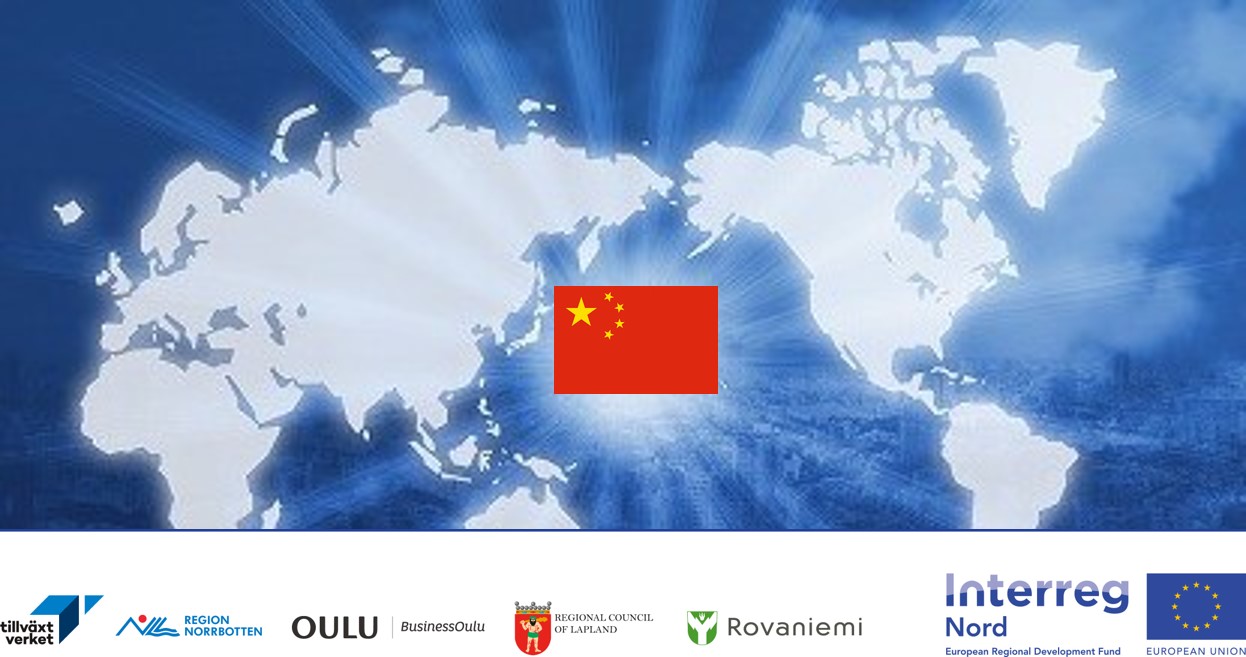 World Business Webinar- China as a market
World Business Webinar is the free virtual seminar to introduce insights by specified market experts organized by Export Cooperation Sweden Finland project members, aiming at sharing business situation and timely information on a specific country with Finnish and Swedish companies to help market entry and give some tips for company's internationalization.
In the second webinar we look into China as a market. How difficult is it to make business in one of the world biggest markets? Will we still look into China as the factory of the world, or will they put their focus into building their internal market. What will happen after covid-19, will the disturbances we now see between USA and China effect our possibilities in making business?
Date: 8 June 2020
Time: 9:00 – 10:00 CET (swedish time)
Place: MS teams
This event is free to participate, but pre-registration is required.
The MS teams link will be sent to registered participants later.
Program:
Welcome, introduction, (5 min)
Being a Scandinavian living in China, (15 min), Joakim Diamant
Doing business in China as a Chinese, (15 min), Wanli Liu
Grow your business on a new market Inspiration talk, (15 min) , Lauri Tammi
Interaction, feedback from the participants , Johanna Kammunen & Elin Stenvall
Introduction of guest speakers:
Joakim Diamant, since many years living in Bejing where he former has worked at the Swedish embassy and now working as a business development manager in Scania will tell us how it is to live in China as a Scandinavian.
Wanli Liu, owner and founder of Adelphos in Sweden has lived in Sweden for many years. He will reflect over how doing business in China as a Chinese.
Lauri Tammi, the founder of a Finnish business advisory company with a multicultural team and a lot of Finnish SISU, will end up with giving us some inspiration talk in how you expand your global market.
---

This webinar is an acitivity within the Export Cooperation Sweden-Finland project.
Export Cooperation Sweden Finland is a Cross-border organizational cooperation, that helps companies in northern Finland and Sweden to find new and profitable business opportunities, export activities and to enter a global market. The aim is to increase cross-border cooperation and awareness among supporting organizations of exporting and we believe that with a transnational cooperation we can help companies to access more extensive and accessible services than just at local level. The companies we want to involve will be companies that mainly are into an eco-system of innovation or academy.
Norrbotten Chamber of Commerce is the Swedish project leader in this cross-border collaboration project, with BusinessOulo as the head project leader.
Funders on the Swedish side include Interreg Nord, Tillväxtverket and Region Norrbotten.
Datum:
8 juni
Tid:
09:00 - 10:00
Plats:
Digitalt via MS Teams
anmäl dig nedan
för länk till webinar
Anmäl dig här!