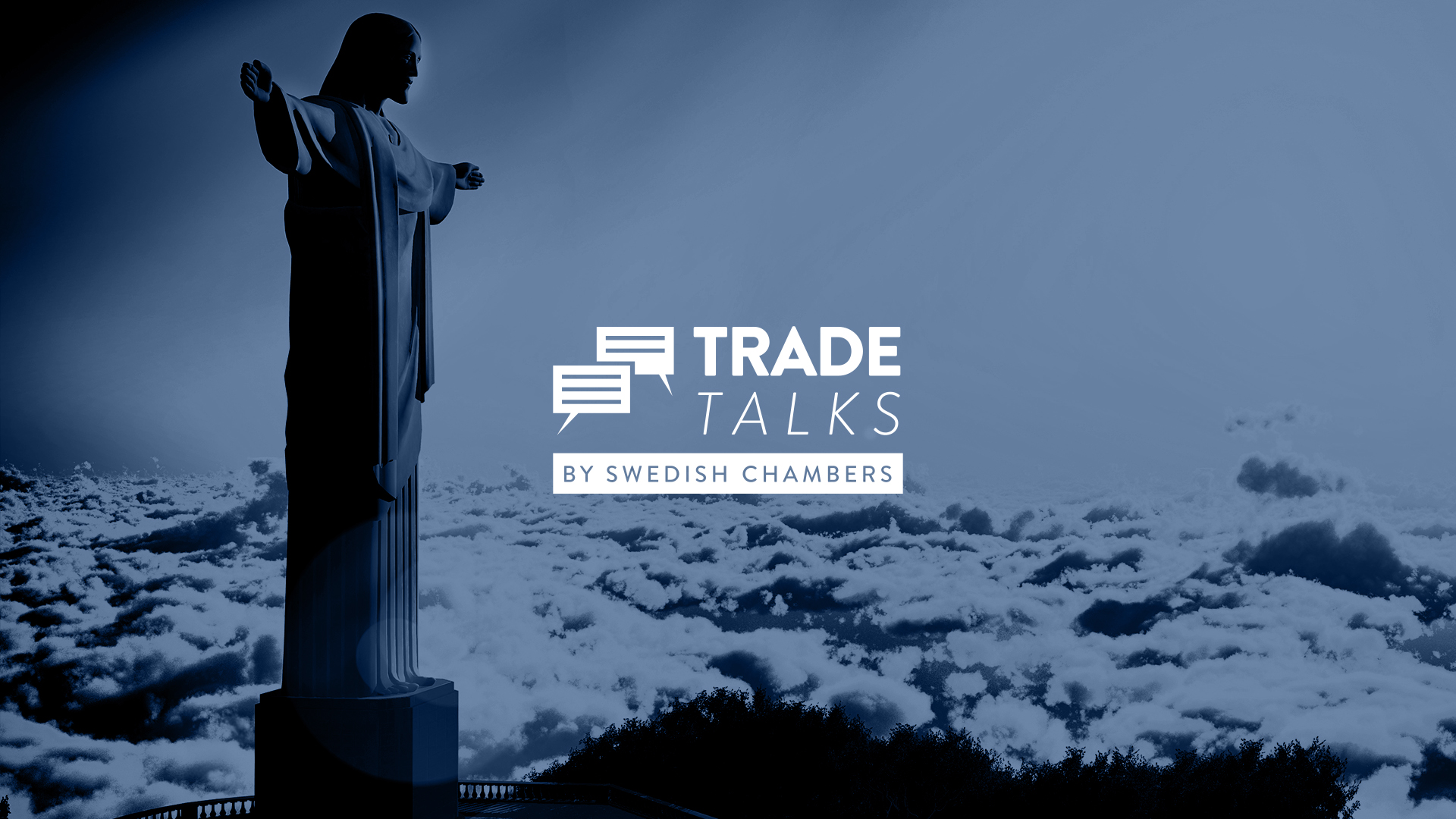 WEBINAR: TRADE TALKS by Swedish Chambers – GO BRAZIL!
MARKET INFO
Brazil is an important strategic trading partner for Sweden due to its extensive economy and large market potential. Over the years, Sweden and Brazil have established strong bilateral collaborations in areas such as research, innovation, and sustainable development, which further strengthens the established trade relations.
At this Trade Talk, we shed light on the Brazilian market and the political map in Brazil, as well as examine its consequences, challenges, and opportunities for Swedish companies that already have a presence on the market or wish to establish themselves there.
Your company gets here the opportunity to ask questions and participate in the conversation about how Swedish companies can navigate the current political environment and identify strategies to ensure successful market entry and operations in Brazil.
FOR WHO?
Exporting and importing companies, or companies that are considering starting to work on an international market.
LEADING EXPERTS
Jonas Lindström, Managing Director at the Swedish-Brazilian Chamber of Commerce
Andreas Rentner, Trade Commissioner & Country Manager to Brazil at Business Sweden
Olle Widén, CEO and co-founder of FinanZero
Johan Fager, Managing Partner at Kazamax
REGISTRATION
Register here for the upcoming webinars!
ORGANIZED BY
Stockholm Chamber of Commerce
TRADE TALKS BY SWEDISH CHAMBERS
Trade Talks by Swedish Chambers is a joint initiative by the regional Chambers of Commerce in Sweden. It consists of webinar series hosted by experienced experts from our chamber network worldwide. Through Trade Talks you get access to the latest updates and analysis on current markets. The webinars are built in dialogue with experts from both Swedish and foreign Chambers of Commerce, other relevant market experts, as well as companies and organizations that can provide experience and lessons learned from respective markets. You can choose to take part of the webinars live or see them digitally afterwards.
Upcoming webinars 2023:
2023-09-19 Trade Talks Brazil – Stockholms Handelskammare
2023-12-07 Trade Talks Germany – Norrbottens Handelskammare
Take part of our earlier webinars:
2023-06-01 Trade Talks Canada – Norrbottens Handelskammare
2023-04-19 Trade Talks Netherlands – Västsvenska Handelskammaren
2022-12-16 Trade Talks Finland – Norrbottens Handelskammare
2022-11-10 Trade Talks USA – Östsvenska Handelskammaren
2022-10-27 Trade Talks China – Stockholms Handelskammare
2022-06-22 Trade Talks UK – Västsvenska Handelskammaren

Handelskammaren Jönköpings län  Mellansvenska Handelskammaren  Handelskammaren Mittsverige  Handelskammaren Mälardalen Norrbottens Handelskammare Stockholms Handelskammare  Handelskammaren Värmland  Västerbottens Handelskammare  Västsvenska Handelskammaren  Östsvenska Handelskammaren