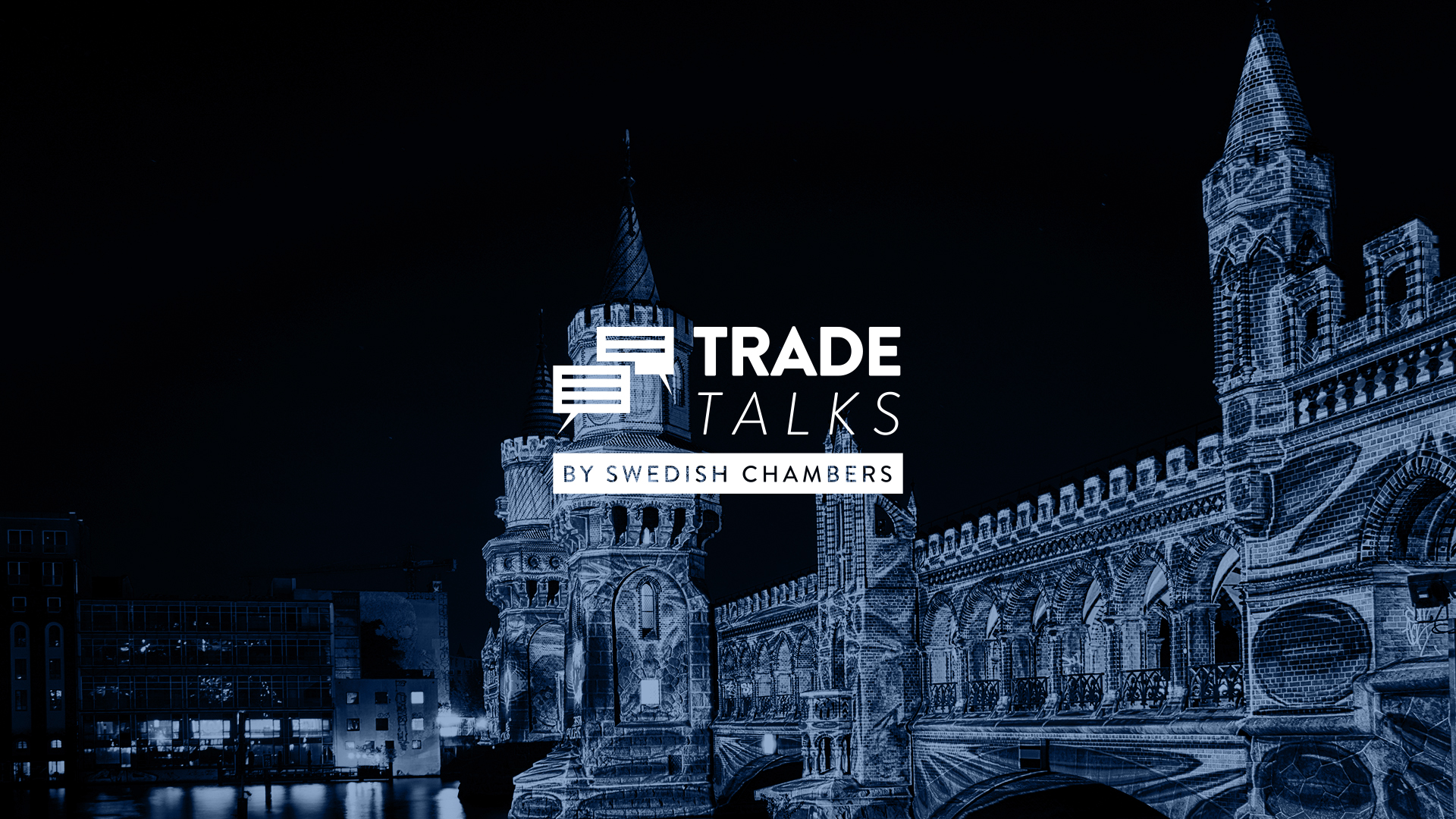 WEBINAR: TRADE TALKS by Swedish Chambers – GO GERMANY!
Germany is Sweden's most important trade partner. It is the world's fourth largest industrialized country with 84 million residents. The average purchasing power per capita exceeds that of Sweden, and four German regions have a higher GDP than our country in total. It is hardly surprising that our most important trade partner is called Europe's economic engine.
The economic ties between Sweden and Germany are strong, and more than 1 500 Swedish companies and subsidiaries are already on the German market. Germany is also the country that invests the most in Sweden, with over 1 000 subsidiaries in the Swedish market.
Swedish companies and products have an excellent reputation and are appreciated by German companies and consumers for their innovative power and quality. There is great demand for solutions in areas where Swedish companies are industry leaders, for example in digitization, 5G and fiber connectivity, and energy.
However, Germany is a country with strong and well-functioning value chains, and it can be a challenge for Swedish companies to find a place within these value chains, whereby it is important to be well prepared before entering the market and have the know how to navigate the regional differences within the German market.
During this webinar, leading experts within internationalization will talk about the German market and what Swedish companies should think about when looking in south.
FOR WHO?
Exporting and importing companies, or companies that are considering starting to work on an international market.
AGENDA
Intro to International Business & Export Cooperation in Norrbotten by Sabrina Suikki & Helen Sundqvist, Norrbotten Chamber of Commerce
Germany as a Market – Business Opportunities & How to do Business in Germany from the Swedish/Nordic perspective – Ninni Löwgren Tischer, Business Area Manager, Market Entry & Business Development, German-Swedish Chamber of Commerce
Best Practices & Successful Market Entry to Germany – Company Cases from Norrbotten TBA
Conclusions by Sabrina Suikki & Helen Sundqvist, Norrbotten Chamber of Commerce
REGISTRATION
Register here for the upcoming webinars!
ORGANIZED BY
Norrbotten Chamber of Commerce in close cooperation with the Swedish-German Chamber of Commerce
 
TRADE TALKS BY SWEDISH CHAMBERS
Trade Talks by Swedish Chambers is a joint initiative by the regional Chambers of Commerce in Sweden. It consists of webinar series hosted by experienced experts from our chamber network worldwide. Through Trade Talks you get access to the latest updates and analysis on current markets. The webinars are built in dialogue with experts from both Swedish and foreign Chambers of Commerce, other relevant market experts, as well as companies and organizations that can provide experience and lessons learned from respective markets. You can choose to take part of the webinars live or see them digitally afterwards.
Take part of earlier Trade Talks:
2023-09-19 Trade Talks Brazil – Stockholms Handelskammare
2023-06-01 Trade Talks Canada – Norrbottens Handelskammare
2023-04-19 Trade Talks Netherlands – Västsvenska Handelskammaren
2022-12-16 Trade Talks Finland – Norrbottens Handelskammare
2022-11-10 Trade Talks USA – Östsvenska Handelskammaren
2022-10-27 Trade Talks China – Stockholms Handelskammare
2022-06-22 Trade Talks UK – Västsvenska Handelskammaren

Handelskammaren Jönköpings län  Mellansvenska Handelskammaren  Handelskammaren Mittsverige  Handelskammaren Mälardalen Norrbottens Handelskammare Stockholms Handelskammare  Handelskammaren Värmland  Västerbottens Handelskammare  Västsvenska Handelskammaren  Östsvenska Handelskammaren