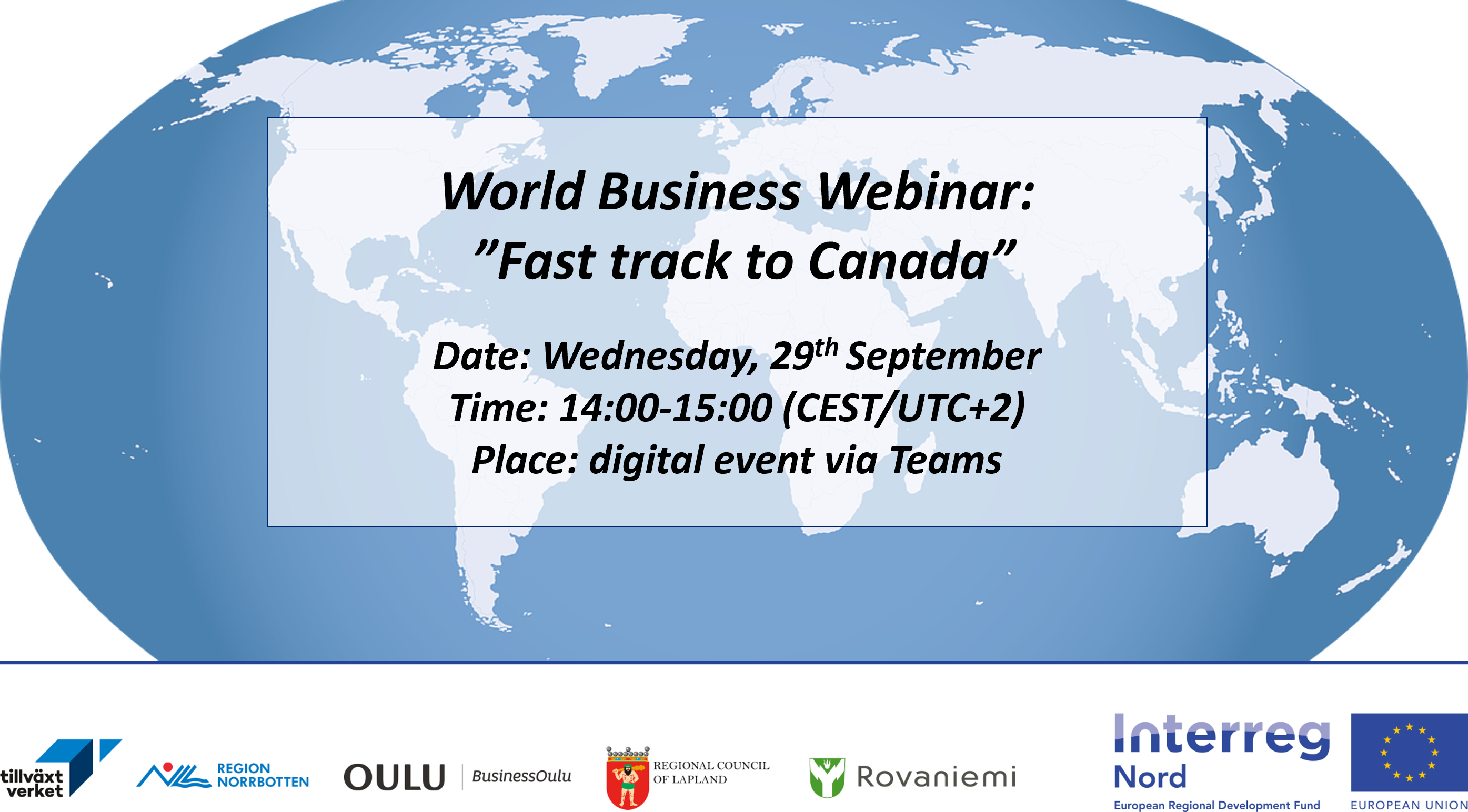 World business webinar: Fast track to Canada
Welcome to join our business webinar series that takes us around the world. This time, our colleagues from the Swedish-Canadian Chamber of Commerce (SCCC) will introduce us to Canada. They will give us an overview of the Canadian economy, tell us more about fast-track market entry possibilities, and give their best advice on how to utilize and accelerate business opportunities.
Topics that will be addressed during the webinar:
Canadian market presentation, with an overview of the regions and different sectors
Introduction to CETA (Comprehensive Economic and Trade Agreement between the EU and Canada)
Fast track to Canada – how Nordic companies can expand into Canada by utilizing current trade initiatives
Speakers:
Marie Larsson Executive Director SCCC
Adam Ayres, Director SCCC / President, Grow the Good
Date: Wednesday, 29th September
Time: 14:00-15:00 (CEST/UTC+2)
Place: Digital event via Teams
The webinar takes place in English. It is free of charge, but registration is required for us to be able to send out the meeting link to registered participants. The link will be sent out the day before the webinar.
About the Swedish-Canadian Chamber of Commerce:
For over 50 years, the Swedish-Canadian Chamber of Commerce (SCCC), has been promoting the development of Swedish-Canadian commerce by facilitating company visits, business references and referrals, information exchange, topical seminars and regular networking events that provide an opportunity to learn, and equally important to meet and share experience with people with similar interests.
About the Fast Track project:
Canada adopted the 2030 Agenda for Sustainable Development to help address some of the most pressing issues facing the world. One of the key objectives of Canada's approach include Partnerships between public, private and government stakeholders to ensure that feedback is provided to continue to develop Canada's national strategy.
Together with the impact startup Grow the Good, we have started Fast Track to accelerate positive change. We have identified both general and specific opportunities for Swedish CleanTech companies in Canada. At this stage, we are looking for Swedish companies that could benefit from these opportunities.

For more detailed information visit: https://sccc.ca/fast-track-project/
---

This webinar is an acitivity within the Export Cooperation Sweden-Finland project.
Export Cooperation Sweden Finland is a Cross-border organizational cooperation, that helps companies in northern Finland and Sweden to find new and profitable business opportunities, export activities and to enter a global market. The aim is to increase cross-border cooperation and awareness among supporting organizations of exporting and we believe that with a transnational cooperation we can help companies to access more extensive and accessible services than just at local level. The companies we want to involve will be companies that mainly are into an eco-system of innovation or academy.
Norrbotten Chamber of Commerce is the Swedish project leader in this cross-border collaboration project, with BusinessOulo as the head project leader.
Funders on the Swedish side include Interreg Nord, Tillväxtverket and Region Norrbotten.

Medverkande regionala organisationer i Export Cooperation Sweden Finland

---
Övriga medverkande organisationer

Datum:
29 september
Tid:
14:00 - 15:00
Plats:
Digitalt via MS Teams
anmäl dig nedan
för länk till webinar
Anmäl dig här!