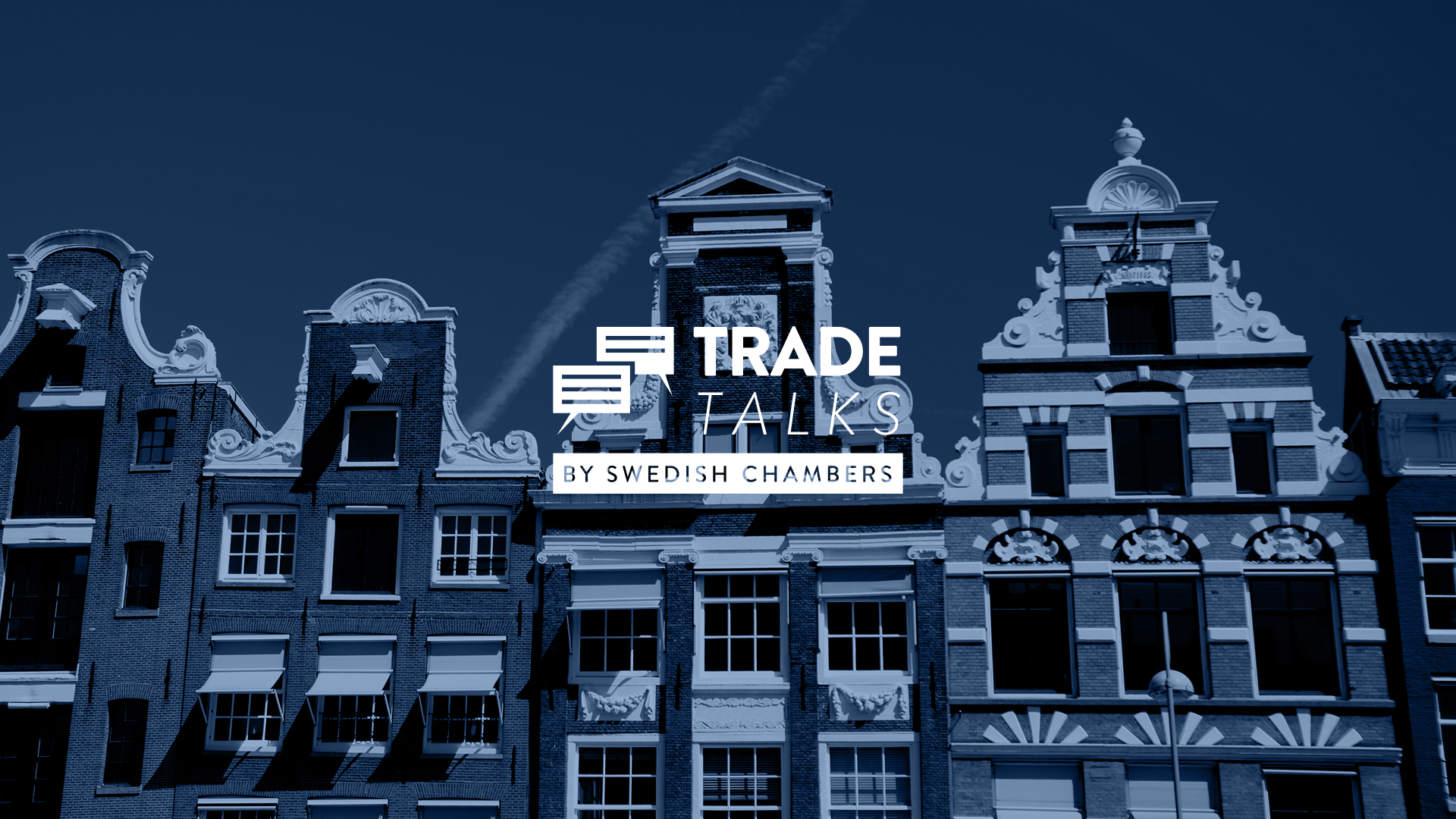 WEBINAR: TRADE TALKS by Swedish Chambers – GO NETHERLANDS!
MARKET INFO
The Netherlands is considered one of the most open economies in the world and is at the absolute forefront of technological development and innovation. The country is the most populated in the EU (after Malta) with an infrastructure that is often considered as the very best in Europe, including Europe's largest port. Such a nearby market with strong market power and a competitive business climate is considered a good entry point to northern and central Europe among Swedish companies. When it comes to corporate culture and language, Swedish companies often find it relatively easy to establish their businesses in the Netherlands.
During this webinar, leading experts and companies will talk about the market and its business opportunities and what Swedish companies should think about when establishing their business in the Netherlands.
FOR WHO?
Exporting and importing companies, or companies that are considering starting to work on an international market.
LEADING EXPERTS
TBKerstin Gerlagh, General Manager, Swedish Chamber of Commerce for the Netherlands
Nils van Dijkman, Partner at HEUSSEN attorneys and civil law notaries / Honorary Consul General for Sweden
Alexander Ljungström, Managing Director, Einar & Partners
Lotta Gunnarsson, Director Software Development at booking.com
LANGUAGE
Swedish
REGISTRATION
Register here for the upcoming webinars!
ORGANIZED BY
West Sweden Chamber of Commerce

TRADE TALKS BY SWEDISH CHAMBERS
Trade Talks by Swedish Chambers is a joint initiative by the regional Chambers of Commerce in Sweden. It consists of webinar series hosted by experienced experts from our chamber network worldwide. Through Trade Talks you get access to the latest updates and analysis on current markets. The webinars are built in dialogue with experts from both Swedish and foreign Chambers of Commerce, other relevant market experts, as well as companies and organizations that can provide experience and lessons learned from respective markets. You can choose to take part of the webinars live or see them digitally afterwards.
Upcoming webinars 2023:
2023-04-19 Trade Talks Netherlands – Västsvenska Handelskammaren
2023-06-01 Trade Talks Canada – Norrbottens Handelskammare
2023-09-19 Trade Talks Brazil – Stockholms Handelskammare
2023-12-07 Trade Talks Germany – Norrbottens Handelskammare
Take part of our earlier webinars:
2022-06-22 Trade Talks UK – Västsvenska Handelskammaren
2022-10-27 Trade Talks China – Stockholms Handelskammare
2022-11-10 Trade Talks USA – Östsvenska Handelskammaren
2022-12-16 Trade Talks Finland – Norrbottens Handelskammare

Handelskammaren Jönköpings län  Mellansvenska Handelskammaren  Handelskammaren Mittsverige  Handelskammaren Mälardalen Norrbottens Handelskammare Stockholms Handelskammare  Handelskammaren Värmland  Västerbottens Handelskammare  Västsvenska Handelskammaren  Östsvenska Handelskammaren