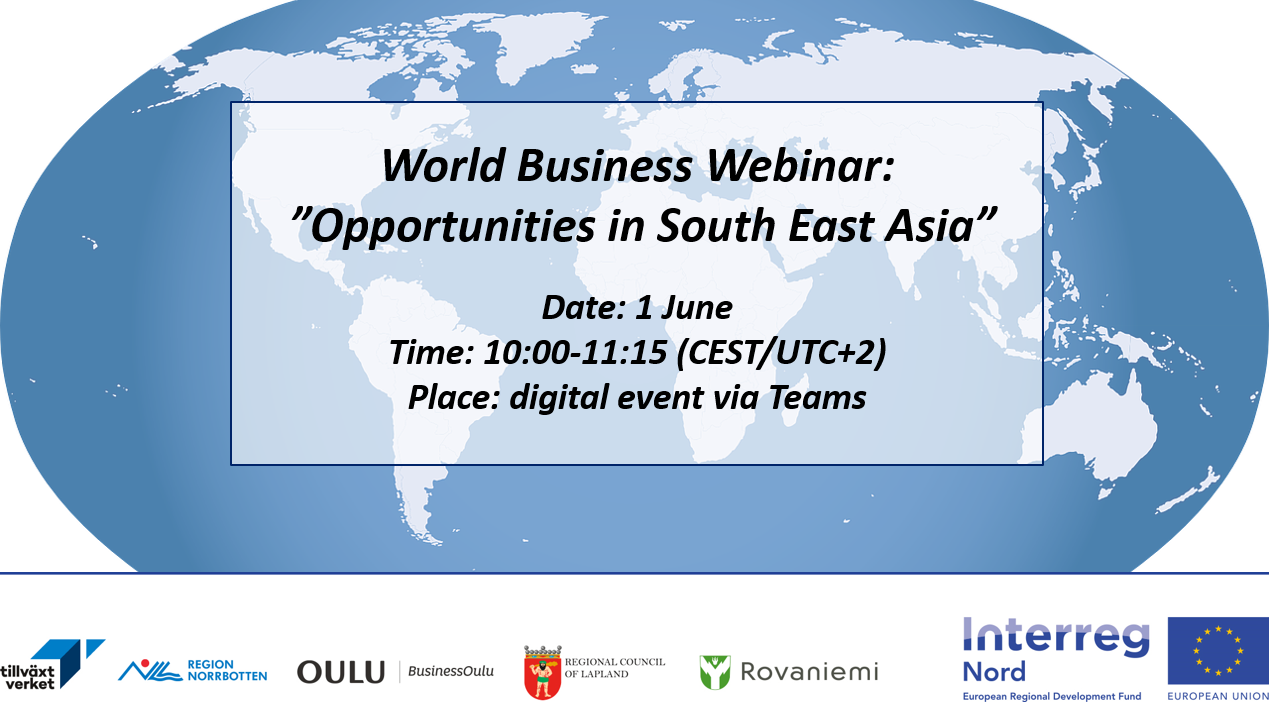 Webinar: Opportunities in South East Asia
Welcome to an interesting event in our business webinar series that takes us around the world. This time, experts from Team Nordic will introduce us to South East Asia. They will give us an overview of the business regions, tell us more about the different markets and sectors, and give their best advice on how to enter them.
Topics that will be addressed during the webinar:
– South East Asian market presentation, with an overview of the region and different sectors, including Smart City, ICT, Agri-Food Tech, Healthcare & Life Science
– Expanding into SEA – approach and examples
– Introduction to Team Nordic – Nordic Innovation House, Business Sweden and Business Finland/Embassy of Finland
Speakers from Team Nordic, Singapore:
– Ida Stjernström, Management Consultant, Business Sweden. Ida works as a consultant at Business Sweden in Singapore and has 4 years of management consulting experience with focus on market entry, market analysis, market intelligence and business strategy expertise.
– Riku Mäkelä, Counsellor Trade and Innovation Affairs Embassy of Finland. Riku is building global business and innovation collaboration through the linkages between Finland and Singapore.
– Jacqueline Chen, Community Manager, Nordic Innovation House. Jacqueline is the current Community Manager of Nordic Innovation House Singapore (NIH-SG), focusing on scaling Nordic tech companies in Singapore and Southeast Asia
Date: Tuesday, 1 June
Time: 10:00-11:15 (CEST/UTC+2)
Place: Digital event via Teams
The webinar takes place in English. It is free of charge, but registration is required for us to be able to send out the meeting link to registered participants. The link will be sent out the day before the webinar.
About Nordic Innovation House, Singapore:
Nordic Innovation House Singapore is a community platform accelerating high-quality Nordic tech startups, scaleups and growth companies in Singapore and Southeast Asia. Via our strong community and network, we connect Nordic companies into the right ecosystem stakeholders.
Nordic Innovation House is supported by Nordic Innovation, and we are a unique collaboration between the Nordic countries. Our working team include the Embassy of Finland, Business Sweden, Innovation Norway, Business Iceland, and the Embassy of Denmark in Singapore.
We also have a presence in Silicon Valley, New York, Singapore, Hong Kong and Tokyo providing a global network and framework tailored to serve the local ecosystem needs.
the local ecosystem needs.
---

This webinar is an acitivity within the Export Cooperation Sweden-Finland project.
Export Cooperation Sweden Finland is a Cross-border organizational cooperation, that helps companies in northern Finland and Sweden to find new and profitable business opportunities, export activities and to enter a global market. The aim is to increase cross-border cooperation and awareness among supporting organizations of exporting and we believe that with a transnational cooperation we can help companies to access more extensive and accessible services than just at local level. The companies we want to involve will be companies that mainly are into an eco-system of innovation or academy.
Norrbotten Chamber of Commerce is the Swedish project leader in this cross-border collaboration project, with BusinessOulo as the head project leader.
Funders on the Swedish side include Interreg Nord, Tillväxtverket and Region Norrbotten.

Medverkande organisationer i Export Cooperation Sweden Finland

Datum:
1 juni
Tid:
10:00 - 11:15
Plats:
Digitalt via MS Teams
anmäl dig nedan
för länk till webinar
Anmäl dig här!